LR and LISCR award Design Approval for world's first 30,000cbm liquified CO2 carrier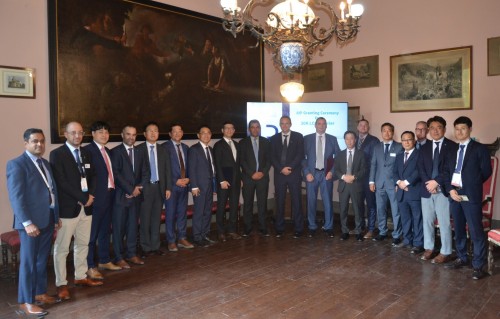 New storage tank design and materials to increase efficiency
Piraeus, Greece, September 15, 2022. Lloyd's Register (LR) and Liberian International Ship and Corporate Registry (LISCR) have awarded Design Approval to Hyundai Mipo Dockyard (HMD) for the development of the world's first 30,000cbm liquefied carbon dioxide carrier. The new carrier will incorporate a new type of steel in its tanks, supporting greater efficiencies in the carbon capture and storage (CCS) value chain.
LR will provide advice and guidance on technical regulations and the development of a Type C storage tank using the new material. When built, the carrier will transport liquefied carbon dioxide under pressure, allowing carbon captured to be transported to storage facilities. Liberian Flag Administration will liaise with LR to formalise the approval and provide the required certification to allow the LCO2 Carrier to enter into service.
The steel used in the Type C LCO2 tank construction will make scantling lighter whilst keeping the tanks' structural integrity intact. This innovation allows an upscale in the size of the LCO2 carrier, improving storage and transportation, something shipbuilders were not able to do with more conventional materials.
Andy McKeran, Chief Commercial Officer, Lloyd's Register, said: "This Design Approval shows LR's expertise in supporting the advance of ground-breaking marine projects in a safe, sustainable way. This vessel will be a key piece of infrastructure in the carbon capture and storage value chain, helping remove greenhouse gases from the atmosphere, supporting the progress to a net zero carbon economy."
Thomas Klenum, Executive Vice President, Liberian Registry, said: "This innovative LCO2 Carrier design utilising new materials for the cargo tanks is an industry first and will play a vital role in our pursuit for global decarbonisation through carbon capture and storage. The Liberian Registry appreciates the great collaboration with HMD and LR in this project that once again demonstrates international collaboration is essential to unlock the potential for innovative solutions to decarbonise."   
Chan-il Kim, Senior Vice President of HMD, said: "This is the first result of the JDP of new steel for liquefied CO2 carrier signed in August 2021, allowing us to design and build more economical and efficient carriers. The developed new material has been examined and approved based on the mechanical properties experiment and engineering assessment. We are very pleased to share the result of this development show as we prepare to build customised economical liquefied CO2 Carriers".
Leading ship manager Capital Gas Ship Management Corp. (Capital Gas) has joined this venture with HMD and LR, advising on operational and commercial matters relating to the project for LCO2 carrier design development.
Miltos Zisis, Managing Director, Capital Gas, said: "We are excited to pioneer together with LR and HMD this innovative LCO2 Carrier design. We see the move to the transportation of CO2, as a natural extension of our existing commercial and technical management expertise, which underlines our commitment to playing a significant role in the carbon value chain and the advance of decarbonisation of the shipping industry and beyond".
HMD has already developed three different LCO2 carriers to flexibly respond to the market demands in terms of different business models in the CO2 value chain, which include 12,000cbm LCO2 carrier with high pressure cargo tanks, 22,000cbm LCO2 carrier with low pressure cargo tanks and 30,000cbm LCO2 carrier with low pressure cargo tanks.
About Hyundai Mipo Dockyard (HMD)
Hyundai Mipo Dockyard (HMD) founded in 1975 has secured its foothold as the world's No. 1 dockyard dedicated to the construction of mid-sized vessels, based on abundant technology and experience. Equipped with an integrated information system for the entire manufacturing process and an advanced design and engineering system achieved based on relentless research and development (R&D), HMD boasts the industry's best technology and productivity.
It has the biggest share of the global market when it comes to petrochemical carriers, container ships, Conro, and asphalt carriers, and it has been selected as the World Class Product of Korea attesting to its competitiveness in the mid-sized ship construction sector.
The company has been striving to gain a competitive edge through ceaseless change and innovation amidst the global economic recession and as latecomers are catching up. As a result, HMD has pre-emptively occupied the eco-friendly ship market based on the world's top eco-ship technology and
About Capital Gas Ship Management Corp.
Capital Gas Ship Management Corp. ("Capital Gas") is a ship management service provider, currently operating a fleet of 14 modern LNG Carriers with a total carrying capacity of approximately 2.44 million cubic meters and a total dwt of 1.14 Tons. Our team consists of highly skilled personnel with extensive experience in the LNG Sector from initial design and newbuilding supervision to LNGCs operations and technical management.
About Lloyd's Register (LR)
Lloyd's Register (LR) is a global professional services organisation specialising in engineering and technology solutions. Our experts advise and support clients to improve the safety and performance of complex projects, supply chains and critical infrastructure. LR was created more than 260 years ago as the world's first marine classification society to improve the safety of ships. Today we operate globally providing compliance, assurance and performance solutions to help keep the world moving safely, efficiently and sustainably.
Our Maritime business is a leading provider of classification, compliance and advisory services to the marine and offshore industries, helping clients design, construct and operate their assets to the highest levels of safety and performance. Our portfolio of risk and advisory, commercial efficiency, vessel performance and voyage optimisation services unlock and drive growth for our clients. Our forward-looking maritime digital solutions include Cloud Fleet Manager and i4 Insight.
Lloyd's Register is wholly owned by the Lloyd's Register Foundation, an independent global charity that supports research, innovation, and education to make the world a safer place, by focussing on the most pressing global safety challenges, establishing the best evidence and insight to better understand the complex factors that affect safety, and by building partnerships for change.
Together we stand by our purpose that drives us every single day; working together for a safer world.