Capital Gas Ship Management Takes Delivery of LNG Carrier 'Asterix I'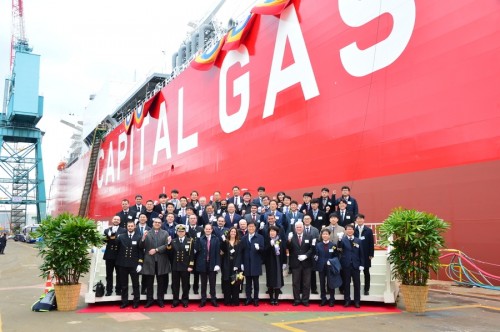 Piraeus, Greece, February 17, 2023. Capital Gas Ship Management Corp. took successful delivery today of the newbuilding LNG Carrier 'Asterix I', built by Hyundai Heavy Industries, S.Korea.
With cargo capacity of 174,000 cbm, the vessel is highly efficient, propelled with XDF engines and equipped with the latest available technologies, including an air lubrication system and increased filling limits (excess 99%). 
It is the seventh of sixteen vessels to be delivered between 2020-2026. The vessel is sailing under Greek flag and has started her seven year employment with Hartree Partners Power & Gas Company (UK) Limited, who maintain an option to extend by an additional two years.
Celebrations for the delivery of the LNG Carrier 'Asterix I' lasted for two days, including a pre delivery cocktail reception and dinner that took place on the 15th of April at Hyundai Hotel in Ulsan, hosted by Capital. The evening featured speeches and commemorative gifts exchange. The vessel naming ceremony took place on the morning of the following day, April 16, at HHI shipyard, Ulsan. After the opening announcement and the salute to national flags, a welcoming address, commemorative and congratulatory speeches were made by Mr. S.K. Lee, President  & CEO of HHI and Mr. Jerry Kalogiratos, CEO of Capital Product Partners L.P. After naming the vessel by Ms. Alexandra Xystra, Technical Director of Capital Gas Ship Management Corp., the many guests were keen to tour 'Asterix I' and to attend tape Cutting, Horn Blowing, and the Greek orthodox Christian Blessing.  Later on, all guests were escorted to a Cocktail Reception, Luncheon & Traditional Gift Exchange hosted by HHI.
Delivery festivities were well attended by more than 50 high ranking officials from Capital, HHI and other organisations and companies.